07 July 2015
Dealing With The Removal Process Successfully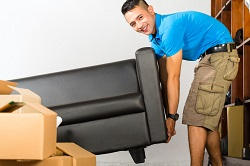 Moving house certainly isn't an easy experience and one that people look back on with fond memories. The entire process can be hectic from start to finish and can be rather daunting if you're not prepared and haven't done everything possible to organise each and every step of the move. Adhere to this advice to help you along the way and to take the confusion out of the house removals process. With this expert guidance, your house move will definitely begin on the right track, so read through these tips and begin to put a plan into place to get you moved out quickly and efficiently.
1. Choose a removal company.
The first thing that you need to do is to decide if you're going to be going it alone or if like most people, you're going to need the removal services of a moving company to get you into your new house. If you decide on the latter, begin doing your research well in advance of your moving day, because only then will you be able to bag the services and the company of your choice.
2. Pack.
The packing process is an integral part of any house move. If you neglect to pack prop ally, if you rush or miss things out, you'll only have yourself to blame when you arrive at your new house and unpack to find broken and damaged items. Start off by buying plenty of packing materials. Don't be stingy and only get a few items; if you bulk buy, you could save yourself some money, and anyway you can never have too much padding or protection for your items. Pack your possessions into plastic boxes but be careful not to over or under fill them. Pack them in such a way so that there's not a lot of extra space to prevent them from moving about whilst in transit but not too tightly so that they break. Fill any remaining space with a box filler or some scrunched up paper or tissue.
3. Stay in touch with your chosen company.
Don't just stop all communication from the time you book with your company to the time they arrive at your door on moving day. Keep the team up to date regarding any last minute changes; perhaps you've decided to bring a large item of furniture with you that wasn't originally on the moving list, so they'll need to know this so that they can change their arrangements, bring a larger van etc.
4. Make plans and prepare for every possible scenario.
Moving day will be stressful enough without having to deal with cancelations or things not going according to plan. It's therefore a good idea to make arrangements in case the process goes pear shaped. Keep a list of back up companies, perhaps a man and van team that you'll be able to call upon at short notice.
5. Don't forget to make alternative travel arrangements for kids or any pets that you may have.
Moving is going to be busy, time consuming and an all round hectic process, so if you've got young kids or any pets running about the place, it's certainly not going to make things easier. The move is going to impact your kids as well, so if possible, try and get your kids to stay with family or friends until the process is over and you're safely moved into your new home. If you've got pets, consider putting them in the care of professionals or leaving them with some responsible friends, because a long move and travel day can stress them out to.